In partnership with USAID Ingobyi activity, Rwanda We Want organization has organized an open conversation on youth sexual and reproductive health with theme "Breaking the ice on discussions around sexual reproductive health (SRH) and debunking myths around it" that will be held on Zoom this Sunday 27th September.
(Click here to register for the meeting)
This event is a culmination of a series of activities in a campaign dubbed "Tubivugeho" that aims at raising awareness and educating the youth about sexual and reproductive health.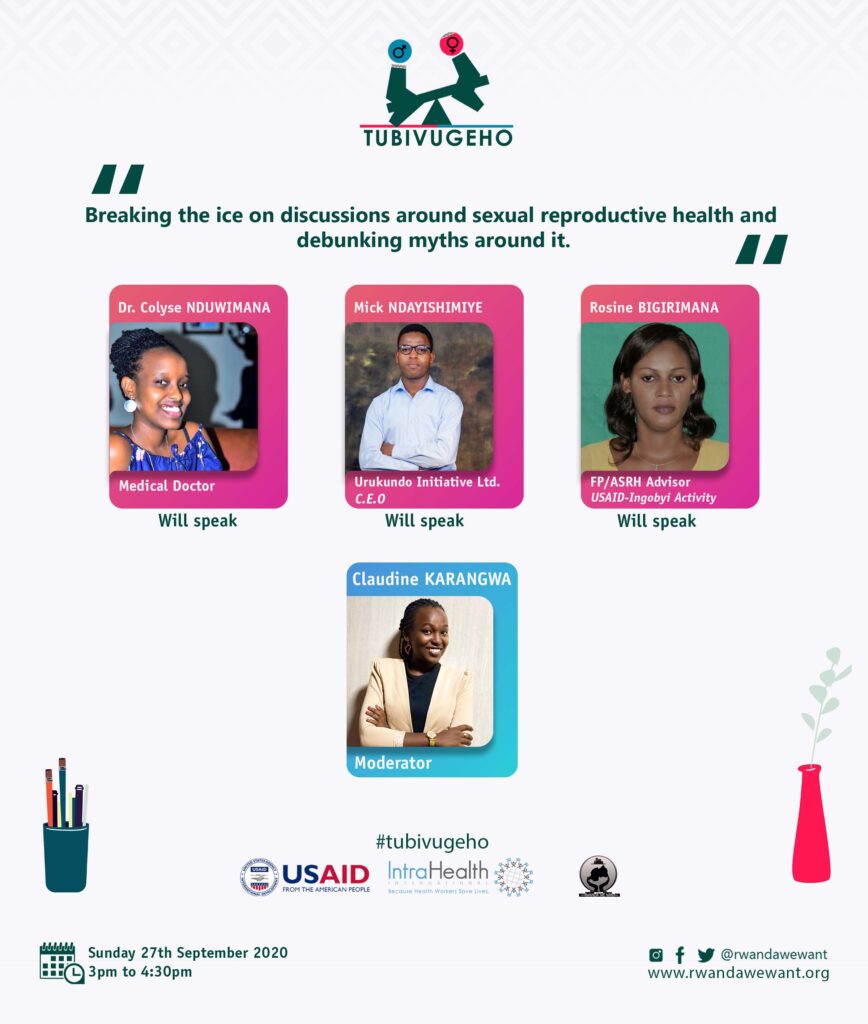 The discussions will be facilitated by Dr. Colyse Nduwimana, a medical doctor, YALI alumni and a passionate advocate for sexual education and youth friendly services, Mick Ndayishimiye, Co-founder and CEO of URUKUNDO Initiative (a social enterprise aspiring to revolutionalize SRH education, Rosine Bigirimana, Family Planning and Adolescent Sexual and Reproductive Health (FP/ASRH) Advisor at USAID Ingobyi activity and moderated by Claudine Karangwa, writer, poetess, and social media enthusiast spearheading Tubivugeho campaign.
Indeed, these discussions come at a perfect timing as reports have been suggesting that effects of lockdown and isolation-both ways adopted to curb the spread of the pandemic-such as anxiety, depression and other mental health issues may result in irresponsible sexual behavior during and after the pandemic period.
While this may be true, other reports have highlighted that there are little to no discussions about SRH at the household level, for the practice is viewed as a taboo in the local culture. Therefore, this leaves the youth only with the choice of drawing information about the subject matter from school or radio shows both which only focus on prevention of unwanted pregnancies or sexual transmitted diseases.
Taking a glimpse at the numbers of unintended pregnancies or girls facing abuse as indicated by some reports such as Violence against women and girls: the shadow pandemic, the surge in those numbers make timely interventions such as tubivugeho needed and needed now in a bid to break the ice around SRH; something that would heavily benefit the future generations.