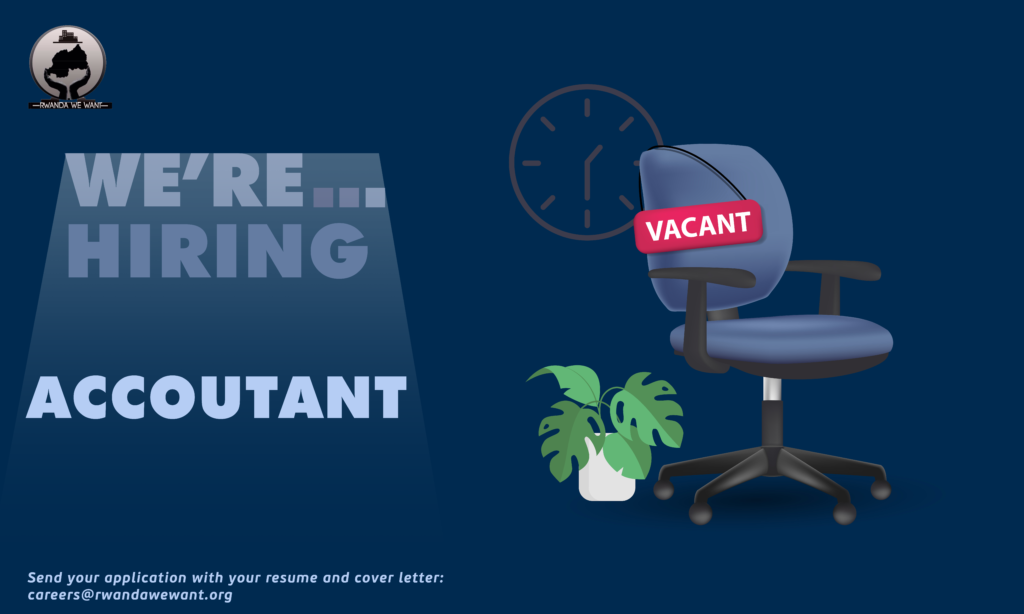 Job Title: Accountant
Reports to: Executive Director
Unit: Finance department
Duty Station: Rwanda We Want Organization (Head office, Kigali)
Duration: 10 months
Rwanda We Want Organization (RWW) is a Non-government organization registered under law N°04/2012, article 16 of 17/02/2012 governing the organization and the functioning of national non-governmental organizations by the Rwanda Governance Board RGB, under the registration number N° 556/RGB/NGO/LP/10/2019.
Rwanda We Want Organization is youth founded and led organization with a strong belief that the youth can be the primary agents of positive youth behavior change. For 5 years, Rwanda we want organization has worked closely with the youth through engaging and youth-friendly approaches advocating for youth empowerment. Rwanda we want organization has worked in Bugesera, Gatsibo, Ngoma, Muhanga, Nyanza, Rulindo, Rutsiro and Rubavu district.
RWW seeks an Accountant to join its growing team. The ideal candidate will have a demonstrated record of success in managing the full cycle of nonprofit accounting activities. She or he will be meticulous and analytical, have strong written and verbal communication skills, and an ability to work in a self-directed manner.
Key Responsibilities
The accountant will be responsible for undertaking the following specific tasks:
Create project accounts in the QuickBooks accounting system
Ensure all transactions are in compliance with RWW financial and procedures manuals and are in line with the project activities.
Manage full-cycle Payroll
Manage, review and process Staff Expense Reimbursement Reports
Prepare accruals and reconciliations of various accounts and post to QuickBooks in a timely manner
Review and approve supplier invoices and prepare payments
Bank reconciliations.
Prepare the project reports (periodic forecasting, budget utilization report, statement of income and expenditures, cash flow statement, etc.)
Prepare and submit government reports and tax returns related to the project and adequately monitor and pay in due time (Declaration and payment of PAYE, WHT, RSSB)
Claim for a VAT refund to RRA when required.
Prepare monthly reconciliation reports/balance sheets for all the projects
Produce quarterly reports as required by the project(s) ensuring accuracy through the actions above and adherence to donor requirements always.
Ensure all transactions are supported by adequate documentation, and approval and that documentation is filed and retained in a suitable way
Compile information for internal and external auditors, as required
Perform other duties as assigned
Performance Indicators
Producing accurate reports on time
Effective management of donor financial requirements and responsibilities
Maintenance of proper and accurate financial records
Compliance with RWW procedures manual
Essential skills and qualifications
At least one (1) year of professional nonprofit accounting experience including experience managing the full cycle of accounting transactions;
Bachelor's Degree in Accounting.
Below 30 years of age
Payroll management experience
Knowledgeable about QuickBooks software
Key competencies include Communication, teamwork, initiative, and dependability.
Fluent in English, and Kinyarwanda as well as written skills.
Ability to work under pressure and tight deadlines
Strong time management, organizational, attention to detail and interpersonal skills;
Ownership and accountability of own work
Advanced skills in MS Word, Excel and PowerPoint presentation
Professional skills in key account management and member acquisition
HOW TO APPLY:
Application documents (soft copies) addressed to the Executive Director of Rwanda We Want Organization should be sent via careers@rwandawewant.org
Please indicate the title as "ACCOUNTANT" in the subject line and attach the following documents:
Bachelor's Degree and ID;
Cover letter (maximum 1 page)
CV (maximum 3 pages);
One or more recommendations of previous relevant work;
NB: All documents should be PDF documents 
Deadline for submission is 23rd April 2023 at 5h00 pm. CAT
Note: Only short listed candidates will be contacted. Female candidates are encouraged to apply. RWW values diversity among its staff and aims to achieve gender equality and promoting a gender dimension in all its work operations without discrimination.