Tuyishime Eliphas and Ufiteyesu Naome at Kibilizi HC youth corner (Nyanza district) preparing a campaign
In Rwanda, young people still face challenges in accessing information about sexual and reproductive health, which might have roots in its culture. Lack of knowledge can have serious consequences, including unwanted pregnancies and sexually transmitted infections. According to the WHO, close to 789 per 100,000 adolescents suffered from complicated unwanted pregnancy in 2015, and nearly 3000 adolescents die each day from preventable causes related to sexual reproductive health (SRH). In Nyanza district, these challenges are no different, but the community has taken action to address them.
USAID Ingobyi, through its youth lead sub-contractor Rwanda We Want Organization, organized the Tubivugeho campaign to address the issue. The campaign aimed to train peer educators in adolescent sexual reproductive health, equipping them with the knowledge and skills to educate their peers and promote healthy behaviors. In turn, they are requested to cascade the trainings to other fellow youth from their area to share the skills they learned with them.
From January 22nd to 25th, 2022, peer educators gathered in Nyanza for the Tubivugeho training session. The peer educators were trained in a youth-friendly manner as they were trained by other young people, breaking the ice around discussing reproductive health. The training covered topics such as changes adolescents experience in their lives, contraception, family planning, and sexually transmitted infections among others. The training was conducted by other youth, which made it easier for participants to ask questions and share their experiences.
Tuyishime Eliphas and Ufiteyesu Naome were among the peer educators who were trained. They found the training to be very helpful and informative, and they were very inspired by the sessions. "The training was very youth-friendly," says Tuyishime. "The methodology of training used by Rwanda we want is very interesting and one can't be bored following it. We learned a lot about sexual and reproductive health, and we feel empowered to share this knowledge with our peers."
Since the training, Tuyishime and Ufiteyesu have organized campaigns in 74 high schools in Nyanza, reaching nearly 600 students in each school. The campaigns aimed to educate young students life saving sexual and reproductive health and promote healthy behaviors. The peer educators use MoH-approved messages to ensure that the information they share is accurate and up-to-date.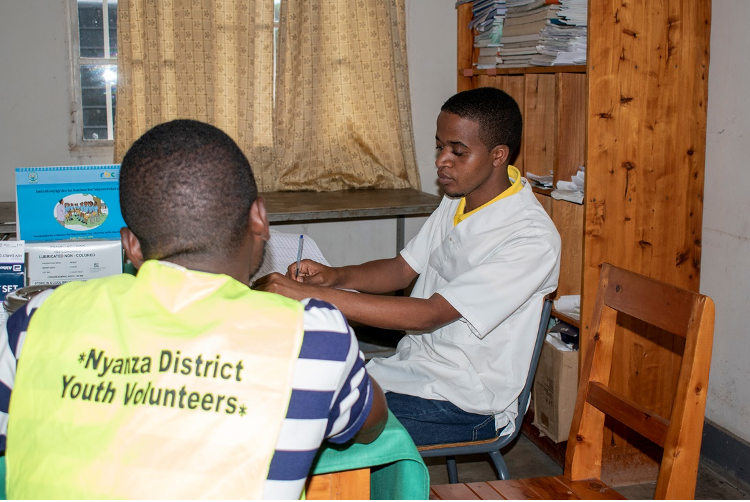 In addition to organizing campaigns in schools, Tuyishime and Ufiteyesu also organized community outreaches called "akagoroba k'urungano" or youth peer evening. These events target out-of-school youth in large gatherings and provide an opportunity to share information and answer questions about sexual and reproductive health. "From the sessions, we had a lot of young people interested and they stayed in contact with us, whenever they have a question about ASRH," commented Ufiteyesu. "when we don't have enough information, we direct them to youth corners, where there is a nurse in charge of counseling young and provide ASRH services."
Thanks to their efforts, youth corner services have seen an increase of young people seeking support of the service. According to Rubagumya Schadrack , the Nyamiyaga health center youth corner focal point, Tuyishime and Ufiteyesu have helped them to increase the frequentation. He says: "These young people help us in mobilizing their peers to visit the corner. Before the compaigns they organized, we used to have around 2 young people attending. Now, we have around 300 per month." Tubivugeho campaign is an excellent example of how empowering youth can lead to positive change. Through the campaigns organized by Tuyishime and Ufiteyesu, hundreds of youth are learning about sexual and reproductive health, which will have long-term benefits for their well-being and that of their communities.